Welcome to Amy's Animals
Deaf Dogs welcome!

Please visit all the pages here, I'm dedicated to showing off my deafies and proving what great pets they can make if givin a chance, but first........
This site is dedicated to my buddy of 13 years, the one and only original Nikki.
He went to the Rainbow Bridge in July of 1998. We miss ya big guy.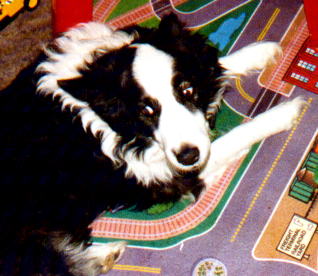 Nikki at age 12, 1 year before he went to the Rainbow Bridge



Hello, my name is Amy and I live in Indiana with my husband, my son, and an assortment of pets including:

Nikki2, a gorgeous border collie and namesake to my precious Nikki pictured above.

Rocky, a deaf fox terrier. He taught me that handicaps don't have to slow you down.

Samantha, a deaf border collie. Having Rocky made me long to help other deaf dogs, and fate sent Samantha to me.

Harley, Our newest since Samantha, not many pics yet but he's a cutie!

Malachi, a very fat and furry cat, his favorite hobbies are cuddling humans and fending off puppies.

After viewing my pages please take a moment to look at the sites in the deaf dog web ring.
People don't think much about deaf dogs until they meet one. But the sad truth is that many deaf dogs are abandoned or put down without ever being given a chance to prove that they are just as normal and loving as a hearing dogs. Deaf dogs can learn anything a hearing dog can, the approach is just different. Dogs respond wonderfully to hand signals. Whether you want to train your dog in obedience or just the basic sit, stay and no commands, with patience and love it is all possible, and the rewards are priceless!

For a look at my crew, just click on the links above and enjoy your visit in my world!










This Deaf Dogs Web Ring site owned by Amy's Animals.
[ Previous 5 Sites] [Previous] [Next]
[Next 5 Sites] [Random Site] [List Sites]

Want join? Click here for the info!




you are visitor #